!****ristau011130ps.htm****>
copyright © 2001 Todd Ristau
---
<!****this begins the script proper****>

Puberty Shriek, Episode 10


by Todd Wm. Ristau

SCENE 10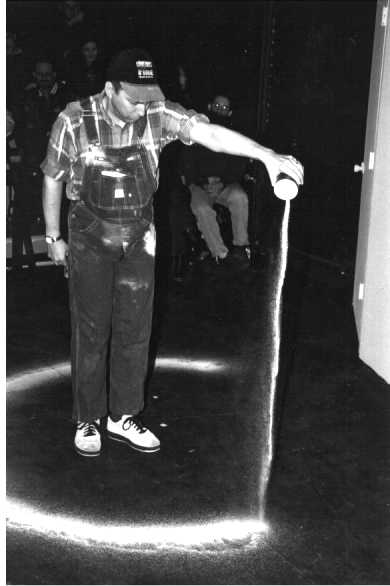 (Lights up on CARL, who is down on all fours drawing pentagrams, charms, and hexes on the ground. DEPUTY 2 stands behind him, chewing gum.)
DEPUTY 2: Mr. McFaddin? (pause) Mr. McFaddin? (pause) Uh, Mr. McFaddin? (pause) Mr. McFaddin?
CARL: What have you come here for?
DEPUTY 2: Uh, Mr. McFaddin, do you know a little girl by the name of Candy Cozbi?
CARL: Cozbi?
DEPUTY 2: Yeah, Candy Cozbi. She was Max's girlfriend.
CARL: Max didn't have any friends.
DEPUTY 2: Uh, Mr. McFaddin, We, that is the County Sherrif's Department, we'd like a little talk with Max. (pause) John, you listening?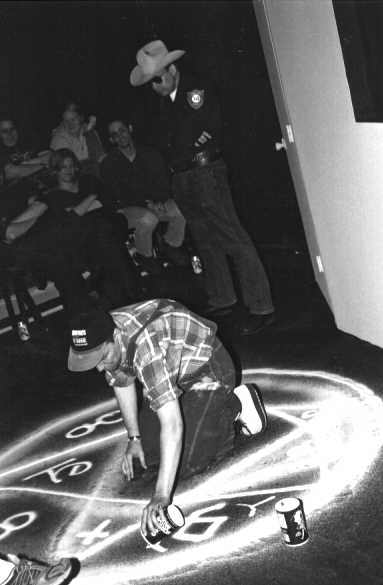 CARL: I'm listening. He ain't here, gone away. Left. What did you want to talk to him about, Lawman?

DEPUTY 2: Well, he had a date with Miss Cozbi last night, and she didn't come home. (pause) Now, ordinarily, a 17-year-old who don't come home from a date on time, well we wouldn't think too much of it...but, well, John, we found her body on your property this morning.

CARL: Yes, I see.

DEPUTY 2: I think that Max is in for a lot of trouble.

CARL: Max is trouble. (long pause) One girl's body. Come tomorrow there's gonna be bodies everywhere. You understand me? Tomorrow, Hell walks the Earth and all your prayers will seem as nothing. (pause) Go away Sherriff. Max isn't here.

DEPUTY 2: Uh, (smiles) I ain't the sherriff. Just a deputy. (pause, looks at the drawings) you some kind of artist, John?

CARL: Oh, this? No, just a hobby. Just a hobby.

(Lights out)

END OF SCENE

<!****this ENDS the script proper****> "Puberty Shriek" IS COPYRIGHTED MATERIAL AND MAY NOT BE DOWNLOADED, TRANSMITTED, PRINTED OR PERFORMED WITHOUT THE EXPRESS PERMISSION OF THE AUTHOR

---
AUTHOR'S NOTES:
This piece went really well, I thought, even with a screaming deer jumping up and starting to prance across the stage because the deer thought the first piece was the second piece. Greg Hays is the master of the dead pan, and if I was making him break up like Harvey Korman, I must have been doing something right. The second can of Morton's Salt seemed to get a pretty big laugh. It also worked very well to use salt instead of chalk on the black painted floor.


---
[Todd Ristau's website] [Ristau Entertainment Ltd.]
---
[Back to

Library]