!****goode040123.htm****>
copyright © 2004 Jeff Goode
---
<!****this begins the script proper****>
House
by Jeff Goode
This was an impromptu piece based, loosely, on a character I had played years before in a No Shame Players piece called "eating pizza". Basically, it was an improv between myself and a young couple [Anthony and Jamie] looking to buy a house. Presumably, I was the owner of the house.

I mumbled throughout the scene and always faced upstage. I also flirted with the woman the whole time rather than answering any of the couple's questions about the house. At one point I sidestepped over to Jon Price - who was there to play interstitial music during the whole show - and asked him to play something romantic.

To end the scene, I got out a digital camera and took a flash picture of the couple and asked if I could put it on the internet, at which point they figured out that I did not really have a house.

Jamie and Anthony's reactions were priceless, as you can see in the photo below, which, ironically, is now on the internet.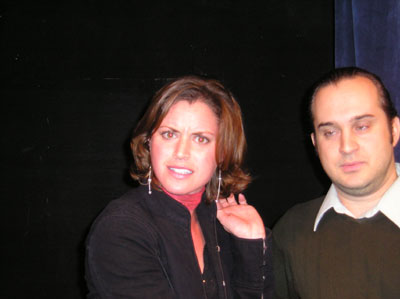 <!****this ENDS the script proper****> THIS SCRIPT IS COPYRIGHTED MATERIAL AND MAY NOT BE DOWNLOADED, TRANSMITTED, PRINTED OR PERFORMED WITHOUT THE EXPRESS PERMISSION OF THE AUTHOR


January 23, 2004 - No Shame Los Angeles


Performed by Jeff Goode, Anthony Backman, Jamie Bullock, Jonathan Price [piano]

---
q.v. eating pizza by No Shame Players

q.v. No Shame Theatre Song ("House" version) (3/30/07)
---
[Jeff Goode's website]
---
[Back to

Library]