!****bobons17.htm****>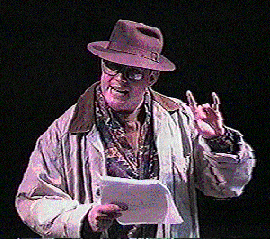 Street of Dreams
by Peter Ullian


copyright © 1989

Performed by Peter Ullian

---
CHARACTER
THE SPEAKER--dressed in a hat, a long grey trenchcoat, and round glasses.
---
THE SET
A black stage.
---
(A BLACK STAGE. IN THE DARKNESS, THE SPEAKER WITH HIS BACK TO THE AUDIENCE. AS THE LIGHTS SLOWLY COME UP, HE TURNS DOWNSTAGE AND ADDRESSES THE AUDIENCE. HE SPEAKS LIKE A SLIGHTLY NEUROTIC PHILLIP MARLOWE, AS HE SPEAKS, HE GESTURES, TRYING TO INDICATE WHERE HE IS STANDING IN RELATION TO THE THINGS HE DESCRIBES. HE WEARS A LONG, GREY TRENCHCOAT, A PAIR OF ROUND GLASSES, AND A HAT.)
THE SPEAKER:
Fade in:

I am standing on a streetcorner at night, beneath the pale moonlight, the pool of the streetlamp, the neon glow of the broken boulevard. Oh yes, I say, it looks like it's gonna be one of those nights. I can spot 'em a mile away.
(HE WALKS STAGE LEFT AS HE SPEAKS, AND POINTS.)
East of me, a lonely old man in a rocking chair is watching Ted Koppel on Nightline.

(HE WALKS STAGE RIGHT AS HE SPEAKS, AND POINTS.)
West of me, an abandoned grandmother is asleep on the couch, awaiting a call that never comes from her favorite grandson.
(HE WALKS DOWNSTAGE CENTER AS HE SPEAKS.)
And somewhere across town a woman who doesn't want to be is having a dream about me.
(HE SMILES, VERY COCKY FOR A MOMENT.)
Just goes to show you, baby, try as you might, once you've had me, you just can't get rid of me, you just can't get me out of your head.
(PAUSE.)
In her dream I am standing over her while she sleeps, naked beneath the cool blue sheets. She opens her eyes. She sees me. Her eyes meet mine. Mine meet hers. Suddenly, she sees inside me. She sees herself seeing me. She see's me being seen by her. She sees me seeing myself being seen by her. She sees me seeing her seeing me seeing myself being seen by her.
And on and on and on and on and on and on and on.
(HE GETS UPSET AND PACES AROUND AS HE SPEAKS.)
And later, much later, I seems like a fucking lifetime later, we are on the phone.
(HE STANDS STILL, USING HIS HAND AS A PHONE, HIS INDEX AND PINKY FINGERS EXTENDED.)
You're immature she tells me. If you weren't immature, then you wouldn't run around your apartment kicking over chairs every time you can't find your car keys.

I know that. I say. I know that. I know I'm immature. Look, don't give me a hard time, o.k? I'm paying for this call.
(HE TRIES TO EXPLAIN THINGS TO THE AUDIENCE.)
The story in brief--
Jan 15th. We make love for the first time.
June 13th. We make love for the last time.

(HE PAUSES, THINKING.)
The first time was better.
(HE GETS SLIGHTLY FRANTIC.)
A phrase pops into my head--"What's wrong with this picture?" Suddenly it hits me like Jack Dempsy's left hook. This isn't her dream. This is my dream. She is having my dream!

I feel robbed. Violated. Cheated. Bad enough she had to break my heart. Now she has to steal my dreams!
(HE SNAPS OUT OF IT.)
I'm back on the boulevard. I'm not sure, but I think there's a song in my heart. I start to dream---
(HE MOVES AROUND THE STAGE, TRYING TO INDICATE TO THE AUDIENCE THE PLACEMENT OF THE ACTION HE DESCRIBES.)
The buildings part like a Hollywood set. Rows and rows of topless dancing girls kicking their legs in unison. Gene Kelly and Fred Astaire tapping their way up a golden staircase. Madonna leading the mob of east-village boho artsy chicks down my street of dreams. (HE SMILES.) Busby Berkley, MGM, and MTV all rolled into one for little old me.
(HE STANDS STILL, CENTER STAGE.)
In the middle of it all, there I stand, at a 1940's radio microphone, wearing a broad-shouldered white tux, my hair slicked back like Sinatra in his Columbia days. I sing. I croon a croon that makes Crosby die of shame. I am a troubadour, a troubador of lonely hearts, and here I go--
(HE SINGS.)
I could while away the hours
conferring with the flowers
consulting with the rain
(HE SPEAKS.)
And before I can stop myself, I begin to dance.
(HE DANCES, FLOPPING AROUND LIKE RAY BOLGER IN THE WIZARD OF OZ.)
With the thoughts that I'd be thinkin'
I could be another Lincoln,
if I only had a brain
(HE STANDS VERY STILL AND ASSUMES A NORMAL POSTURE.)
A phrase pops into my head--"what's wrong with this picture?"
(HE DANCES AND SINGS AGAIN, AS IF HE'D NEVER STOPPED.)
I could tell you why
the ocean's near the shore
I could think of things I've never thought before
and then I'd stop . . .
and think some more
(HE STOPS DANCING.)
Wait a minute! Just one Goddamn minute here! Hold everything! I'm not supposed to be Ray Bolger! I'm supposed to be Frank Sinatra. What's going on here? I'm not a scarecrow! I'm a lover! Cut! Cut! (HE YELLS.) CUT!
(AS IF HE CAN'T HELP IT, HE SINGS AND DANCES AGAIN.)
I would not be just a nuthin'
my head all full of stuffin'
my heart all full of pain
(HE STOPS DANCING.)
Oh my God! Now I get it! I'm not dreaming my dream! I'm dreaming her dream! She and I have switched dream identities! Is there no end to this madness?
(PAUSE)
I try again.
(HE STANDS STILL AS HE SINGS, THIS TIME.)
How glad the many millions
Of Annabelle's and Lillians
would be
to capture me
(HE PAUSES, THINKING.)
Better.

But you had such persistence
you wore down my resistance.
I fell . . .
and it was swell . .

There we go. Now I'm a lover.

I'm your big and brave and handsome Romeo
how I won you I shall never, ever know


It's not that you're attractive
But oh, my heart grew active
when you
came into view . . .
I've got a crush on you

And as I sing, my dream recedes
(AS HE SINGS, HE BEGINS TO WALK SLOWLY UPSTAGE, BACKWARDS.)
Sweetie pie
All the day and nighttime
hear me sigh
And all I can see is her.
never had the least notion
that I could fall
with so much emotion
And the buildings return to place. And Madonna stops dancing. And I am alone again on my boulevard of stolen dreams, with nothing to sing, but the song in my heart . . .
Could you coo
could you care
for a cunning cottage
we could share


The would will pardon my mush
'cause I have got a crush
my baby, on you
(HE IS COMPLETELY UPSTAGE BY NOW. WHEN HE FINISHES SINGING, HE STANDS VERY STILL AND STARES QUIETLY ABOVE AND IN FRONT OF HIM. <!**these lines cut from BoBoNS script: HE LETS HIS CIGARETTE FALL TO THE FLOOR. AS THE LIGHTS BEGIN TO FADE, FRANK SINATRA SINGING "I'VE GOT A CRUSH ON YOU" RISES IN VOLUME AND CONTINUES THROUGH THE BLACKOUT.**>)
Fade out.

CURTAIN

---
Write to Peter Ullian at 165 Seaman Avenue #4H, NY, NY 10034, or email PDUllian@aol.com

---
[Back to BOBONS ( 1 / 2 / 3 / 4 / 5 / 6 / 7 / 8 / 9 / 10 / 11 / 12 / 13 / 14 / 15 / 16 / 17 / 18 / 19 )]
---
[Back to

Library]