<!IMG SRC=julio2.jpg ALIGN=right> Julio
by Scott Smith
copyright © <!** guessing on date>1991



Performed by Cheryl Graeff and Megan Gogerty

---
EVE

This is my daughter Denise's room in my three story French provincial home! Beautiful, isn't it? We redid the wall paper in here last year. Lily of the valley pattern, from Laura Ashely. Very tasteful. I just love cleaning this room. I have to laugh when I hear about how some wives and mothers resent housework! Ha! The truth of the matter is they don't have the kind of home I do! I mean really, I have everything a mother could hope for. My husband Porter is faithful and hard working and my two children Denise and April are perfectly behaved. Of course, April is a cow, but you can't have everything. As I say, this is Denise's room we're in. Now, this girl is thirteen years old and look, spotless! I barely have to do anything in here. Maybe a little dusting.


NARRATOR

Suddenly Eve notices a little pink book lying on her daughter's perfectly neat makeup counter.


EVE

Oh, look at his. Oh, this is so cute! Denise has started to keep a diary! I ask you is that cute? I bet she just writes the cutest things in here. I'm really tempted. I shouldn't. I bet it's just soooo cute. Well, I think I'm just going to take a little peek. Just an eensy one. Lets' see "Diary of Denise Salotsky. Private. Keep out, this means you! Isn't that cute! "Painful death to all who read further." This is fun! Let's see, "November the 29th: Dear Diary, Julio is just the most amazing man in the universe. "Julio? Who's Julio? "Dear Diary"


DENISE

Julio's just the most amazing man in the universe He's so funny.
Remember last week I told you about those pictures he took of me? Well, we're supposed to be getting them back tomorrow and this is the funny thing, he said,


EVE

"I can't wait to see how those pictures I took of you turn out. I'm really afraid they'll come out over exposed. Ha, ha, ha." What is this? I don't understand. WHO THE HELL IS JULIO?! Let's look at another entry.
December 5th. That's the day I sent her to see Mary Poppins. Good. wholesome, Disney entertainment!


DENISE

Dear Diary, today was a red letter day! I had the big O during Chim Chimeny Chim Chimeny Chim Chim Cheroo!


EVE

WHAT!


DENISE

Julio's amazing! His hands are magic! They turn me into a real woman! I haven't known what it was to be truly alive 'til today! God, I hope things go well at his probation hearing!


EVE

WHAT?!


DENISE

Then Julio and I can go for a drive and explore further our mutual passion!


EVE

(Slamming the diary shut.) Oh my God! My daughter is having mutual passion with someone named Julio! I can't read anymore! I must! "December14th--"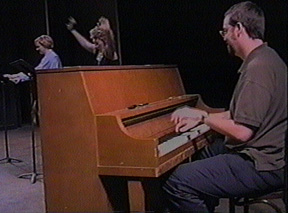 <!IMG SRC=julio3.jpg ALIGN=right>

DENISE

I'M IN LOVE WITH JULIO
AND HE'S IN LOVE WITH ME
WE GO RIDING ON HIS MOTORCYLCE
LIKE A BAT THAT GRABBED A BULLET
COMING OUT OF HELL
HE'S MY LEATHER JACKET ROMEO


EVE

JULIO HE LOVES ME
HE' S ALWAYS CALLING ME
LITTLE DARLIN' AND MY SWEET POTATO
AND A LITTLE SLICE OF HEAVEN HERE UPON THE EARTH
BUT JUST MOSTLY MONKEY LOVE GIRL


DENISE

YEAH!


BOTH

I'M IN LOVE WITH JULIO
I'M REALLY GLAD WE'RE DATIN'
HIS TATTOO IS A PENTAGRAM
BECAUSE HE WORSHIPS SATAN
DATIN'
SATAN
DATIN'
JULIO


DENISE

GOING TO THE MOVES
WITH JULIO IS FUN
WE SAW BLOODBATH
AND THE PSYCHO KILLER
BUT MY FAVORITE ONE
WAS I SPIT ON YOUR BLOODY GRAVE
I LIKE THAT ONE IT WAS SUPER COOL


EVE

JULIO'S SO FUNNY HE NEARLY MADE ME PEE
AT THE MOVES HE JUST STOOD UP
AND HE WENT AND SHOUTED
BUT LIKE REALLY SUPER DUPER LOUD
CATCH THE HOOTERS ON THAT POPPINS BABE


BOTH

I'M IN LOVE WITH JULIO
WE'RE ALWAYS PLAYING TWISTER
JULIO KEEPS TELLING ME I'M BETTER THAN HIS SISTER
AT TWISTER
SISTER
TWISTER
JULIO


EVE

SHE'S IN LOVE AND SHE'S IN LOVE AND SHE'S IN LOVE WITH JULIO
OH MY GOD AND OH MY GOD AND OH MY GOD OH NO


DENISE

CHIM CHIMENY CHIM CHIMENY CHIM CHIM CHEROO
GOOD LUCK WILL RUB OFF WHEN I SHAKE HANDS WITH YOU!


DENISE

JULIO' S A SWEETHEART HE NEARLY MADE ME CRY
YESTERDAY HE GOT ROMANTIC
AND HE CARVED OUR NAMES OUT
IN A HEART AROUND ABOUT THIS SIZE
THE HOOD OF A MERCEDES BENZ


BOTH

I GET SUPER JEALOUS OF HIS OTHER GIRLS
BUT EVEN SO
JULIO SAYS DON'T YOU WORRY CUZ YOU IS MY MAIN HO


EVE

Main ho? OH NO!


DENISE

MAIN HO!


EVE

OH NO!


BOTH

JULIO


DENISE

I'M IN LOVE WITH JULIO
SO WHAT HE'S FORTY THREE
I STILL LOVE HIM AS MY LOVER
I'VE NO OTHER
GOD I'M STAPLED TO HIS VERY SOUL
SO I'VE THROWN AWAY MY BIRTH CONTROL


EVE

Oh my God!


DENISE

CHIM CHIMENY CHIM CHIM CHEROO!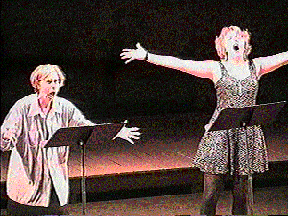 <!IMG SRC=julio.jpg>

1990-91 - No Shame Iowa City


October 11, 1996 - Best of the Best of No Shame (Iowa City)


Performed by Cheryl Graeff & Megan Gogerty with Scott Smith [piano]

October 14, 2006 - 20th Anniversary Best of the Best of No Shame (Iowa City)


Performed by Inger Hatlen & Megan Gogerty with Scott Smith & (?) [piano]
---
[Back to BOBONS ( 1 / 2 / 3 / 4 / 5 / 6 / 7 / 8 / 9 / 10 / 11 / 12 / 13 / 14 / 15 / 16 / 17 / 18 / 19 )]
---
[Back to

Library]