from College of Liberal Arts & Sciences' ARTS & SCIENCES magazine - Fall 2001
---
Short Acts, Long Run
It has no budget, no auditions, and doesn't even begin until 11 p.m. on Friday nights. So what makes No Shame Theatre one of the hottest acts on campus?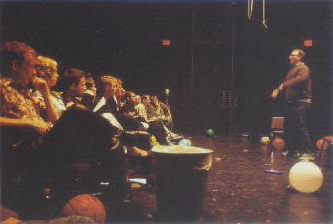 "I love it because it can make you laugh hysterically one minute, pull at your heartstrings the next, and be totally disgusting a few minutes later," says Mike Cassady, a senior majoring in theatre and music and a frequent performer in No Shame. "A lot of the people involved are students from other parts of campus and community members, and for them it's their only theatrical outlet. We do it because we love it, and that shines through on stage."
The rules are simple. Actors must perform original material not more than five minutes in length, and performances must not harm the audience or theatre (the actors themselves are fair game). On a given evening, the sketches may range from a monologue done by a boy who makes friends with a mop, to a riff on the JFK assassination, to a piece delivered by a Kevin Spacey-obsessed magazine editor.
Begun in 1986 by Todd Ristau (M.F.A. '91) and Stan Ruth (B.A. '87), No Shame Theatre staged its first performances in the back of a pick-up truck lit by a motorcycle headlight. Today the weekly shows fill the 144-seat Theatre B. Its offbeat spontaneity has spawned No Shames in cities nationwide, such as Chicago, Cleveland, New York, Miami, and even Fairbanks, Alaska.
"There's no advance planning or rehearsals, but somehow it all comes together each Friday night," Cassady says.
---
[Back to Press Clippings]