Thursday, February 15, 2001

Shame never seemed so sweet

Cutting-edge performances shine in anything-goes theater

By Reed Dunn
Iowa City Press-Citizen

There are only three rules - each piece must be less than five minutes; it must be original, and the performance must not damage the theater or the audience.

If you go


• What: No Shame Theatre.
• When: 11 p.m. Fridays.
• Where: Theatre B, Theatre Building on UI campus.
• How much: $1.
• Information: No Shame begins the second week of the fall and spring semesters. Each semester's final performance is a best-of lineup, as selected by the No Shame board.

These few rules help keep the shame out of No Shame theater, a weekly, late-night, impromptu series at the University of Iowa. Beginning at 10:30 p.m. each Friday, the first 15 plays submitted are accepted for performance that night. At about the same time, a small crowd begins to gather in the lobby of the Theatre Building, awaiting the start of chaos 30 minutes later.

Chris Okiishi, No Shame board member and a psychiatrist at University Hospitals, said even though the event took place on campus, everyone was invited to participate.

"You don't have to be a student," he said. "You don't even have to be good."

No Shame was started as a vehicle for playwrights to showcase their work and for actors to practice their talents.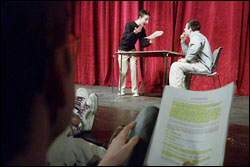 Paul Rust performs with University of Iowa junior Aaron Galbraith while Arlen Lawson watches from the audience with script in hand.
Press-Citizen/Matthew Holst
The $1 admission is used to pay for the use of the stage. Extra money earned each season is used to honor two No Shame participants, who also must be studying theater at UI, with a scholarship.
Neil Campbell, board member and a junior in theater arts and cinema, has been writing and performing at No Shame for the past two years. He said the small audiences (a full house is 144 people in Theatre B) provided feedback to the actors and writers with their laughter or silence.
"It's the ability to just take risks, whether you fail or succeed," Campbell said. "You can create this great stuff, and it's just you."
Brian Tuttle, junior in theater, discovered No Shame after transferring to UI. He has been writing and performing monologues for the past few weeks, and said it was an honor to share the stage with such talented writers and actors.
"I've been a lot of places, but the talent here is better than anywhere I've seen," he said. "It's a creative venue like no other.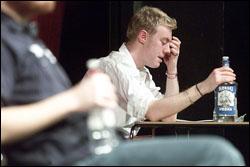 Iowa City resident Chris Stangl performs in a sketch about alcoholism during Friday's No Shame Theatre at the University of Iowa Theatre Building.
Press-Citizen/Matthew Holst
"Every writer, every actor, has a chance to do something every week."
Okiishi said the performances were entertaining, but some people might be turned off by some of the outrageous things that happen onstage.
"It's not necessarily for everyone's taste," he said. "Nudity always is outrageous, and that sometimes happens."
Board member Aprille Clarke, UI graduate student, said people often stereotyped No Shame as a forum for sexual jokes, but much more was being showcased.
"You get your standard monologues and sketch comedy, but you get a lot of innovative ideas people are trying out," she said. "Everything is so cutting-edge. It kind of keeps you young at heart."
No Shame typically takes place in Theatre B, but other theaters are used when Theatre B is occupied.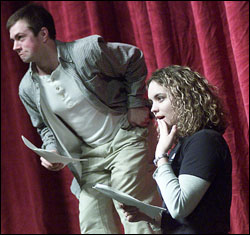 UI sophomore Erin King complains about the goblin that lives in her belly to junior Aaron Galbraith during a sketch at Friday's No Shame Theatre.
Press-Citizen/Matthew Holst
This was the case Feb. 9, when the crowd filed into the first several rows of Mabie Theatre.
Ungelled white lights were aimed at the wrinkled, red curtain, covering the bottom two-thirds and spilling a large pool of light onto the black, unswept stage floor. A small table and three chairs were scattered around the stage, when someone began rapidly flicking the lights down and back to full beam.
The up-and-down motions of the lights continued as Campbell and Clarke danced around the stage welcoming the audience and shouting the rules for performance.
The lights returned to full beam, and the night's lineup was announced.
Erin King, sophomore in French and pre-medicine, was one of the performers on the list. It was the first time she had written for the show, and her name was more than halfway down the list. She said she was fidgeting in her chair, anticipating her turn to perform the piece she had written after attending an earlier night of No Shame.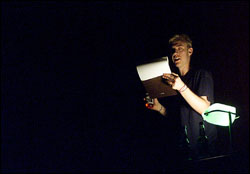 Iowa City resident Chris Stangl performs one of his pieces at Friday's No Shame Theatre at the UI Theatre Building.
Press-Citizen/Matthew Holst
"I was really inspired to write something on my way back," King said. "I was in speech contests in high school, and I really missed that."
When her name was called, King jumped on the stage. She said later that as the lights faded out she got that nervous feeling in the pit of her stomach.
"When the lights went down, I closed my eyes and took a deep breath," she said. "It felt like 1,000 butterflies were in my stomach."
As she started speaking, the butterflies left. Her first No Shame performance was an accomplishment that will keep King going back for more.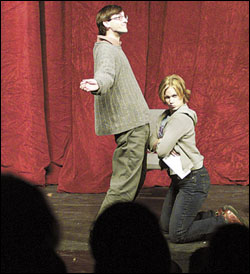 Mark Hansen and UI graduate student Aprille Clarke perform Friday.
Press-Citizen/Matthew Holst

"It was the best feeling in the world to have accomplished something I wanted to do so bad," she said. "To have earned their appreciation felt really special for me."

King said activities such as No Shame were what people needed to wind down at the end of the school or work week.

"It's something different to do in Iowa City, when everyone else is talking about going to the bars," she said. "It's a great way to end the week."

Campbell said there was a lot of truth in the tradition of No Shame, making it a great form of entertainment for everyone.

"They always say it's cheap, raw and unpredictable, and that's totally true," he said.

Let us know what you think of this story...

<!***********************************>